Make
your passion
your profession
Become an image consultant: sign up for our advanced training course!
Colour analysis - ACI® Method
Discover how to be an image consultant with the right tools
How to promote your business
Are you an image consultant and want to learn how to promote your business? The Image Consulting Academy will answer your questions.
Become an image consultant
The dates shown here refer to the beginning of the image consultant courses and individual modules.
Professional Training - Image Consultancy Course
During the Professional Training Course you will learn all the necessary skills to become an image consultant: at the end of the advanced training course, you will be ready to start working in the field.
Expertise Training - Image Consulting Course
A natural extension of the Professional Training Course can also be taken separately. During this second and final training step, you will refine the techniques previously learned and enrich them with new skills and tools.
Educational Modules - Courses that can be purchased individually
Becoming an image consultant means not only fulfilling a dream by following a natural inclination for this activity, but also meeting the needs of the Italian and international market.
Qualified teachers with field experience
Turn your passion into your profession
The Accademia Consulenza d'Immagine is founded in Rome with the aim of providing an advanced training service for all of those who wish to become professional image consultants.
Like other professions, that of the image consultant requires a high level of training, consisting not only of theoretical lectures but also, and above all, practical lessons in which the student can directly deal with the difficulties and wonders of this profession.
By taking part in our classes, you will learn various skills in the most disparate and apparently distant fields from that of image consultancy: from public speaking to personal branding and management of social media profiles. Thanks to the cross-cutting skills acquired throughout the excellent training course at the Accademia Consulenza d'Immagine in Rome, you can really differentiate yourself – and help your potential clients express their full emotional and professional potential.
It was an experience beyond all expectations, full of emotions and highly augmenting!Ilaria and Isabella are not only two valid professionals, but they are also two special and wonderful people, who with their knowledge and enthusiasm support you and catapult you into a world you don't expect!
I recommend this course to everyone … at the end you will not recognize each other!
Thank you so much!
Francesca Musti
The day I spoke to Ilaria on the phone before deciding whether to start, I had a thousand doubts and perplexities for the investment to make but also for the confidence I had in myself, I ended that phone call with my eyes full of joy, of conviction and happiness because I understood that I had found a safe haven from which to leave …
You have exceeded and exceeded my expectations, I did not think I would find such availability, competence, professionalism and humanity… Ilaria and Isabella are two exceptional teachers; expert, highly trained, always understanding and courteous. Always present even when the zoom lesson was over, ready to lend you a hand in any moment of difficulty. I would do this path another hundred thousand times and I am sure that I will do other courses of your Academy… you will not get rid of me easily! I really recommend to all those who want to start a path of this type to rely on the academy, because I have finished this path and I can say that I feel ready and competent, only thanks to you. I can say that you are the Top in all of Italy!
Giulia Paolucci
It had been a long time since I wanted to train as an Image Consultant and after viewing various sites, academies and courses offered on the web, I chose to ask you for information. From the first telephone contact with Isabella, I felt super motivated to want to undertake this path and, having reached the end of it, I could only be more satisfied!
A great atmosphere was created inside the class, even though I had never seen each other in person, I immediately felt completely at ease with both the teachers and the other girls. The topics of the course were treated with extreme precision and professionalism, I am sure that each of us now has all the necessary tools to be able to start a career as an image consultant. So I can only thank Isabella, Ilaria, Matteo and Valeria for the great work and commitment they have shown in creating this course, which for me was really a great revelation!
Anna Dainelli
Isabella and Ilaria are professionalism, humanity, empathy, passion, availability.
Participating in the "How to become an image consultant" course was like entering a magical world, full of colors, shapes and harmony.
Thank you so much!
Francesca Salvagno
The experience of the "How to become an image consultant" course with Ilaria and Isabella was truly rich in concepts, emotions and a lot of sharing.
Ilaria and Isabella are two professionals with great passion for their work and willingness to pass it on to us students. Would I choose to take this course again? IT'S A BIG YES!
Delia Terranova
Taking the "How to become an Image Consultant" course was a wonderful experience. The authors of this adventure were Isabella and Ilaria, who accompanied me along this journey with their great professionalism, empathy and availability. The material provided, the platform used during the course, the coaching with the respective teachers did the rest. I am truly satisfied with the experience I have lived, because in addition to providing me with a valid preparation regarding image consultancy, it has allowed me to have a wonderful experience on a human level.
Patrizia Fini
The teachers of the Academy
Style Coach
Business Image Strategist

Member AICI Italy Chapter
Member AICI Italy Chapter
90'' Impact Communication Expert | Speaker | Consultant & Trainer
Digital trainer & Consulting
presso Garage Raw
NEUROFASHION® Psychologist - Founder presso Moda e Psiche
Content Marketing Expert
Founder of Wecontent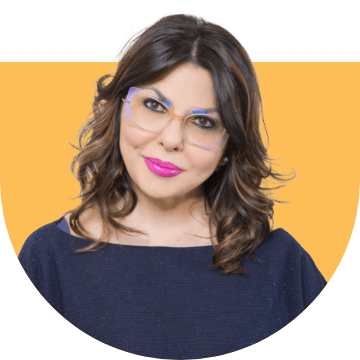 Docente iMeMo University e Trainer di Mappe Mentali
Fondatrice TICHE Ebusiness & Consulting srl
Professional Training
Consulting course
of Image
Next edition September 2022
Expertise Training
Consulting course
of Image
Next edition  October 2022
Via Giovanni Maria Lancisi 31
00161 Rome – Italy
100 meters from the Policlinico exit
Metro B (2 stops from Termini)