EYEWEAR – THE WORLD OF EYEWEAR
EYEWEAR – THE WORLD OF EYEWEAR Course
If your dream is to become a bridal consultant or you would like to learn more about this subject, don't miss this opportunity to take part in this course. Those who sign up as soon as possible can enjoy a discount on the enrollment fee!
EYEWEAR IMAGE CONSULTING
From visual aid to stunning accessories. The great appeal of glasses and sunglasses to enhance your own style.
Eyewear Image Consultancy
The course "The World of Eyewear – Eyewear Image Consulting" is designed for image professionals who want to include eyewear in a personalised consulting process to offer their clients.
Unlike other accessories, glasses are highly atypical since they have a dual soul. On one hand, they are the perfect aid to correct sight issues and, on the other, they are the perfect accessory to enhance the individual's style and create uniqueness.
Many celebrities have made sunglasses or eyeglasses their signature and, not surprisingly, some have used them to define their look. Some of the big international fashion designers rely on eyewear accessories to raise their brand awareness, and some have begun their rise to success thanks to the development of eyewear collections: from the birth of eyewear to correct presbyopia with improved focus at close quarters, to modern eyewear that replicates current trends and meets the needs of visual well-being.
How to suggest the most suitable glasses for a person's face, personal needs and occasions of use?  Image consulting is enriched with a module entirely dedicated to eyewear and focuses on knowledge of the accessory to suggest the ideal glasses and create the perfect eyewear wardrobe for your clients.
The course is also designed for those who wish to approach the world of Eyewear and propose themselves to companies in the industry, thanks to the in-depth study of all the topics needed to specialise as an Eyewear image consultant and to use their professionalism to support sales. 
1. The history of eyewear and the evolution of the accessory in the fashion world
2. The shapes of glasses
3. Glossary
4. The difference between style and fashion in the Eyewear world
5. Stars and eyewear
6. Basic knowledge of eyesight problems as a starting point for eyewear style consultation
7. Eyewear image consultancy and the creation of a perfect eyewear wardrobe:
pre-individual meeting
basic information on eyesight problems
individual needs and occasions analysis
existing eyewear wardrobe analysis
individual style analysis
eyebrows shape analysis
face analysis and face fitting
chromatic analysis
creation of the perfect eyewear analysis
the combination between lens and frame
keep an eye on how they suit you
glasses makeup
eyewear makeover
8. Eyewear trends overview
Lectures and online exercises on Zoom (no recorded video lectures).
Certificate of attendance;
Slides shown during the training in pdf format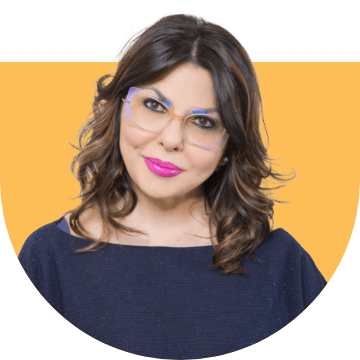 She has been working for years and collaborates with important companies in the eyewear industry such as Hoya, Marcolin, Silhouette Eyewear and the fashion system, offering not only image consultancy services but also styling, trend anticipation, training sessions and sales guidance, through operational workshops and role plays, for future consultants and staff in the optical industry.
Would you like to take part in the course "The world of eyewear - Eyewear image consulting?"
If you want to take part in the World of Eyewear – Eyewear Image Consulting course, don't miss this opportunity: thanks to the support of the teacher Angelica Pagnelli, you will discover all the secrets of Eyewear Image Consulting and enrich your personal and professional know-how. What are you waiting for?
Cost:
€ 450,00 including VAT
Early bird
€260,00
DISCOVER THE PROMOTION WE HAVE RESERVED FOR YOU THIS MONTH